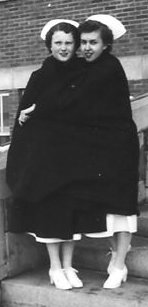 I have no idea who these two are. Ken forwarded me this email.

Dear Susan & Ken,

Here is my file with all Mom's old picts in it. These are the ones I have the originals for.

Deb!

Thing is I don't have a clue who Ken is. I replied and asked what was up but he's been silent. Thought I'd share the pictures of the nurses. I hope Deb doesn't mind.
- Peace